Save lives. Provide comfort. Strengthen legacies.
Helping New Yorkers Live On
We are a team of over 300 – clinicians, educators, social workers and more – united around the life-changing power of organ and tissue donation. LiveOn℠ works tirelessly day and night, on education, engagement and advocacy, and the logistical planning and management 365 days a year, to help save the lives of those in need of a transplant. We also provide support and comfort to donors and their loved ones throughout the donation process, and for years after. Contact LiveOn℠ for any of your needs including logistics and management of any of your donation needs by phone: 646-291-4444 or email: communication@liveonny.org.
Who We Serve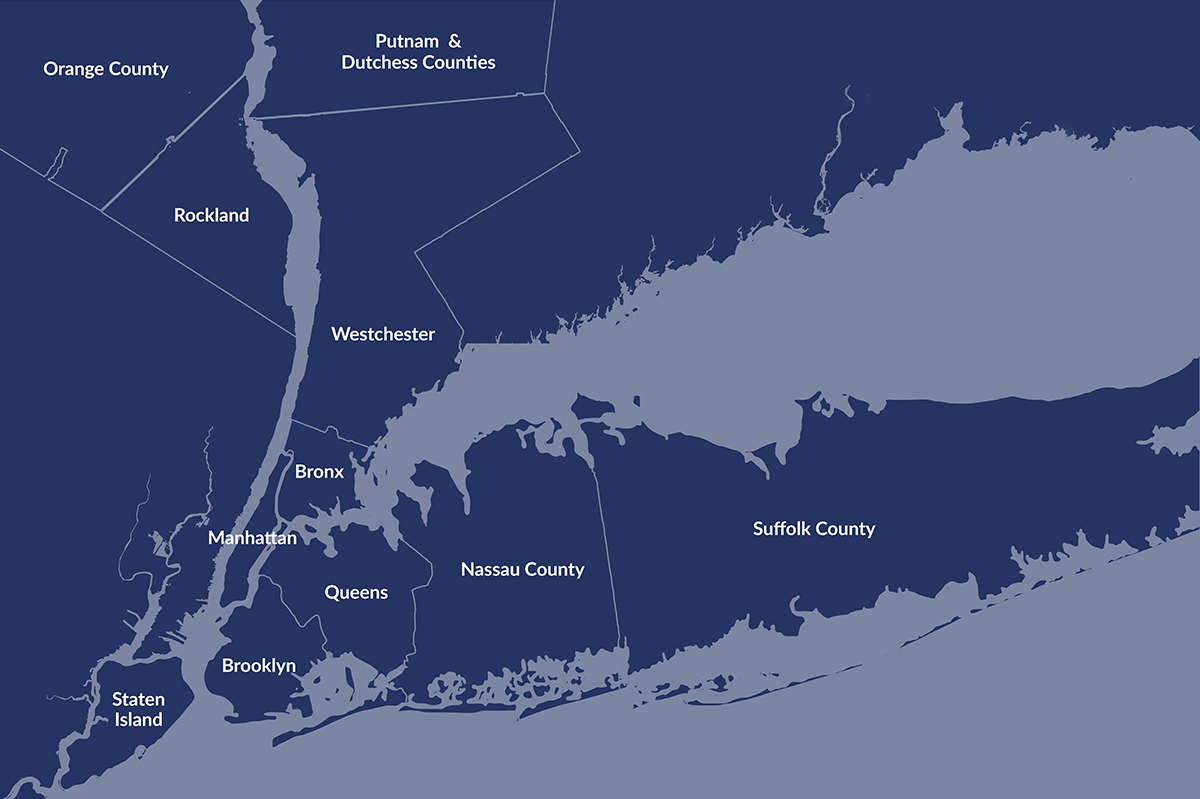 LiveOnNY serves a population of 13 million people in the greater New York City area and its neighboring counties. But we don't do it alone. We are proud to partner with 11 transplant centers and nearly 100 hospitals to ensure that an individual's wishes to donate are honored and lives are saved.
List of Transplant Centers
.
Our Executive Team
With a combined 185 years of experience in their fields, our executive team brings knowledge and expertise to the organization and cause.
Leonard Achan, RN, MA, ANP
President & Chief Executive Officer
Achan was appointed President & CEO of LiveOnNY in November 2021. Having started his career as an ICU Nurse in 1999 at Mount Sinai Hospital, he is a veteran healthcare executive with over 20 years of leadership experience. He previously served as the President of the Hospital for Special Surgery's Innovation Institute. His leadership roles have spanned clinical, operational, marketing, communications, crisis management, digital transformation, branding, and innovation and he has served in several C-suite roles.
Jim Aranda, MBA
Senior Vice President, Strategic Finance & Chief Financial Officer
Aranda joined LiveOnNY in 2001 as Chief Financial Officer and brings 40 years of health care leadership and financial management experience. In his role, he designs, leads and implements finance initiatives that align LiveOnNY's strategic vision. He has held several roles within the non-profit and for-profit health care sectors including Financial Planning Manager, Hospital Controller, Administrator and Director of Financial Operations. Aranda is a Cornell University graduate with an economics degree.
Luba Ashurov
Vice President, Compliance and QAPI
As LiveOnNY's Vice President of Tissue Bank Services, Luba oversees the organization's Donor Center and Tissue Recovery operations. She joined LiveOnNY as a Tissue Recovery Specialist and was then promoted to Tissue Operations Manager and Tissue Services Director. Luba has over 20 years of experience in the Healthcare and Tissue Donation field.
Anthony Delli Carpini
Vice President, Strategic Financial Services
Anthony Delli Carpini was recruited to LiveOnNY in 1989 and brings 38 years of finance experience to this new role. He began his donation journey with LiveOnNY (then named New York Regional Transplant). Prior to joining the LiveOnNY team, he had six years of finance experience as an accountant at Montefiore Medical Center and a Customer Service Associate at Citibank. He was recruited to come to LiveOnNY as the Assistant Business Manager to develop and oversee the financial systems and reporting. Since then, he was later promoted to Director of Finance. Anthony Delli Carpini has a Bachelor of Science in Accounting from Fordham University. He is an avid runner who has completed 23 marathons and 21 consecutive NYC Marathons, each year, saying "I'm not sure I'm going to make it this year!" In his new capacity, reporting to the CFO, Tony will lead Strategic Financial Planning to build current and future financial plans that align with our new vision and strategic plan to make us the leading OPO in the country.
Annabel Henry, RN, MSN
Vice President, Hospital Services
Henry joined LiveOnNY in 2022 as Vice President of Hospital Services bringing 21 years of healthcare experience. In her role, she works with health system leaders to optimize and enhance team relationships to align LiveOnNY's strategic vision. Before joining LiveOnNY, she started her career as a critical care nurse in 2006 within Northwell Long Island Jewish Medical Center then transitioned to Northshore Manhasset's Patient Logistics team. Later joining Access Service Patient Transfer Center, Executive Services and the Clinical Command Center at Mount Sinai Health Systems as the Clinical Nurse Manager and promoted to the Senior Nursing Director. She holds a Master of Science in Nursing Administration & Informatics from Molly College and received her BSN degree from Adelphi University.
Dr. Connie Kristine, DProf
Executive Vice President, Chief of Staff Corporate Integrity & Chief Compliance Officer
Dr. Kristine joined LiveOnNY as Senior Vice President and Chief of Staff in 2022. She oversees LiveOnNY's contracting, corporate compliance, and business development. Prior to joining LiveOnNY she spent 18 years at Mount Sinai Health System in various executive roles including SVP, Chief Contracting Officer at Mount Sinai Health System and SVP, Business Development and Managed Care.
Kervens Louissaint, RN, MSN, CPTC
Senior Vice President, Chief Clinical Officer
Louissaint became LiveOnNY's Vice President of Clinical Services in 2022. He began his career with the organization in 2008 as a Transplant Coordinator and was then promoted to Clinical Manager in 2011, Assistant Clinical Director in 2015 and Clinical Director in 2017. Prior to his employment at LiveOnNY, he worked as a neuroscience critical care nurse at Weill Cornell Medical Center. He obtained his BSN degree at Mercy College and MSN Administration & Informatics at Molloy College.
Ralph Maldari
Senior Vice President, Chief Tissue Bank and Service Excellence
Maldari joined LiveOnNY as SVP, Chief Tissue Bank and Service Excellence in October 2022. He oversees tissue donation operations and service excellence across the organization. Maldari brings over 17 years of experience as an industry leader in healthcare and hospitality. Maldari has an extensive track record of shaping strategy, expanding capabilities, and transforming businesses, with the end goal of providing world-class customer experience. He also serves as ADJ. Assistant Professor, Customer Relationship Management & Hospitality at NYU School of Professional Studies. Prior to joining LiveOnNY, Maldari served as Chief Hospitality Officer for Hospital for Special Surgery.
Samirat Rivers, SHRM-CP
Vice President, Chief People Officer
Rivers oversees human resources; education and training; diversity, equity and inclusion; and organizational culture at LiveOnNY. Prior to joining the organization in 2020, she worked at FPC Worldwide where she led operations, human resources, and marketing. Rivers brings 20 years of human resources experience to her role.
Dr. Abraham Warshaw
Senior Vice President, Chief Medical Officer
Dr. Warshaw joins LiveOnNY as Senior Vice President and Chief Medical Officer. In his executive leadership role, Dr. Warshaw will oversee hospital operations and relationships, logistics and clinical medicine. Dr. Warshaw is a board-certified emergency medicine physician and brings more than 30 years of experience in patient access and medical practice strategy. Dr. Warshaw has held a variety of healthcare leadership roles over the past three decades, most recently serving as Senior Vice President, Chief and Medical Director of Access Services at Mount Sinai Health Systems. Prior to that, he was the Chief Clinical Officer, Vice President Clinical Services and Logistics Officer at Newark Beth Israel Medical Center. He is also a long-time professor who has taught at multiple colleges and universities.
Heidi Evans
LiveOnNY Foundation, Executive Director
Evans was appointed founding executive director in 2016. She is a Pulitzer Prize winning health care reporter with extensive experience covering organ donation and transplantation during a 30-year career. Evans is also a two-time winner of the George Polk Award for Investigative Reporting at the NY Daily News. She holds an MS degree from Columbia University, was a Nieman Fellow at Harvard, and has worked at the Wall Street Journal and LA Times.
Our Board of Directors
We are honored to have input and guidance from some of the best and brightest minds in the nation. Their wisdom and support helps propel the daily mission and long-term vision of LiveOnNY.
Meet the Board
.
board of directors
CHAIRPERSON
Lee H. Perlman
Executive Vice President, Chief Administrative and Financial Officer - Greater New York Hospital Association
SD, Vice Chairperson
Ruth C. Browne
President and Chief Executive Officer, Ronald McDonald House New York
Warren Berke
Chairperson, Community Advisory Board Member at NYC Health + Hospitals/Kings County Hospital Center
DeYoung Chan
Chief Financial Officer, Charles B. Wang Community Center
William Dacunto
Executive Vice President, Operations, Silverstein Properties, Inc.
Frank Darras, MD, FACS
Medical Director, Transplantation Services at Stony Brook University Hospital
Thomas Diflo, MD, FACS
Chief of Intra-Abdominal Transplant, Westchester Medial Center
Jean Emond, MD
Chief of Transplantation Services, Columbia University & Director, Transplant Initiative at New York-Presbyterian/Columbia
Bruce Flanz, MBA
President & Chief Executive Officer at MediSys Health Network & Jamaica Hospital Medical Center
Jason Golbin, DO, MBA, MS, CPE
Executive Vice President and Chief Medical Officer, Catholic Health System
Tomas Heimann, MD
Chief of Surgery, James J. Peters VA Medical Center
William D. Holiber
President and Vice Chairperson, U.S. News & World Report
Leona Kim-Schluger, MD
Associate Director, Recanati/Miller Transplantation Institute, Mount Sinai Hospital
Robert Montgomery, MD, DPhil
Chair, Department of Surgery and Director NYU Langone Transplant Institute
Jean-Luc ("JL") Neptune, MD, MBA
Chief Executive Officer and Co-Founder, Suntra Modern Recovery
Fernando Pineda
Chief Technology Officer, Nicholas Air
Edward Rogoff, PhD
Dean of LIU Brooklyn
Salvatore J. Russo, Esq.
Counsel, Fox Rothschild, LLP
Moro Salifu, MD, MPH, MBA, FACP
Chief of the Division of Nephrology and Director of the Kidney Transplant Progam, SUNY DownState
Vivek Shah
Chief Executive Officer, Ziff Davis, Inc.
Lewis Teperman, MD, FACS
Vice Chairman of Surgery, Director of Solid Organ Transplantation at Northwell Health
medical advisory board list
Joseph T. Cooke, MD
New York Presbyterian Queens
Karen Berger
Westchester Medical Center
Thomas D Schiano, MD
Mount Sinai
George Herrera
MTF Biologics
William Lynch
Jamaica Hospital Medical Center
Allen J. Norin, PhD
Stony Brook Medicine & SUNY Downstate
Jonathan E. Howard, MD
NYU Langone Health
Milan M. Kinkhabwala, MD
Montefiore Medical Center
Ahmed Ezz Eldin Fahmy, MD
Northwell Health
Chiara Rocha, MD
Mount Sinai
Nabil Nuhad Dagher, MD
Northwell Health
Stephanie H. Chang, MD
NYU Langone Health
Wayne Waltzer, MD
Stony Brook Medicine
Abhishek Mathur, MD
New York-Presbyterian/Columbia University Irving Medical Center
Rebecca Craig-Schapiro, MD
Weill Cornell Medicine
Donna M Mancini, MD
Mount Sinai
Bruce D Gelb, MD
NYU Langone Health
Caroline Rochon, MD, FACS, FRCSC
SUNY Downstate
Vaughn Whittaker, MD, MPH, FACS, DrPH
James J. Peters VA Medical Center
Daniel Glicklich, MD
Westchester Medical Center
Michael McDonnel
Dupree Erin
Ira Copperman
The LiveOnNY Foundation
The LiveOnNY Foundation is the philanthropic arm of LiveOnNY. Created in 2016 with seed funding from Donate Eight, the Foundation complements and enhances the work of LiveOnNY.
The Foundation's core mission is to raise and deploy charitable contributions to help increase the number of lives saved in New York through public and medical education, innovative projects and to support both donor and recipient families through their transplant journey. By making a contribution to The LiveOnNY Foundation, you help us provide the greatest gift of all – the gift of life.
Pictured here are grant recipients Nadine and Kinsey. Nadine wrote a book about her daughter Kinsey's journey with transplant called "Kinsey's Kidney Adventure."
Work With Us
As one of the largest organ procurement organizations in the country, we aim to recruit, develop and retain talented and diverse staff members to help realize our mission. In addition to fulfilling and life-saving work, other benefits include tuition reimbursement, medical & dental plans and retirement savings with employer match and more. View our open positions or search for a career that meets your interests – then apply online!